Sleaford Quality Foods were finalists in the FDF Awards @ The Brewery in London
Last week Sleaford Quality Foods attended the FDF (Food and Drink Federation) Awards in London where we were finalists in the Central and Northern England category of the Regional Growth Award, an award we won in 2016!
We had a great evening although, this year, we were unfortunately unable to claim the top spot. Congratulations to The Yorkshire Wagyu Company and all other companies who won wan award on the night!
We still think it was a great achievement to even be finalists two years on the trot and believe it is testament to the companies ambitions for growth!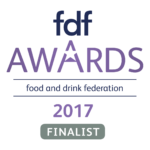 Next up is the Food Manufacture Excellence Awards where were up for Ambient Manufacturing Company of the Year…wish us luck!
To find out details about the winners and shortlists…vist the below links!